How to find the Best Cream for Age Spots and getting rid of age spots. If you are terrified of age spots, there's no need to be. There are treatments and measures you can take to help prevent them and get rid of those you may already have. Read on to find out more!
Ingredients of the Best Creams for Age Spots
Some of the best creams for age spots should stop them from developing. The combination of Vitamin C and retinol helps block abnormal pigment production and enhances shedding skin cells that contain extra pigment. 2 per cent hydroquinone is a great ingredient for reducing age spots. It is an FDA-approved skin bleaching agent and it works by interfering with melanin production. Melanin is what gives skin the dark pigment. but, keep in mind that hydroquinone can have side effects for darker skin tones so only use it as formulated in one of the skincare products available for retail. Alpha and beta hydroxy acids, (salicylic acid, glycolic acid and malic acid), are a great combination of acids to tackle a few problems, including hyperpigmentation. Coconut oil is regarded as one of the best natural remedies for getting rid of age spots.
Living with Age Spots
When UVB and UVA rays come in contact with our skin, the body's melanin can develop into things like moles, sun spots, and melasma. UV rays also create free radicals, which damage living cells. True age spots don't need treatment, but they are a sign the skin has received a lot of sun exposure and are an attempt by your skin to protect itself from more sun damage. Unlike freckles, which are common in children and fade with no sun exposure, age spots don't fade. Many people simply live with age spots and are none the worst for it, but for cosmetic reasons, they can be lightened or removed. If you don't like the appearance of your age spots, there are many things you can do to get rid of them. Read on to find out how.
How to Reduce the Appearance of Age Spots on Hands
While there's no way to undo the damage that's been done, you can reduce the appearance of age spots with a dedicated skincare routine of powerful products at home. Skin creams with sunscreen can help prevent the formation of age spots. But if you've already spotted them on your face, there are several solutions that can help you reduce their appearance.
Natural Vitamin E is a powerful antioxidant that can reverse the effects of ageing on the skin and reduces the appearance of fine lines, and wrinkles. And, also helps prevent age spots appearing.
Aging Skin Dark Spot Rescue Hand Cream
Try Vaseline® Clinical Care™ Dark Spot Rescue moisturizing hand cream. It helps to visibly reduce the appearance of dark spots in just 4 weeks. Exercise prevention.


How to Protect Skin from Age Spots
Not only is it good for our brain and immune system, but Lycopene also has some fantastic skin benefits too. It boosts our skin's natural skin protection factor (SPF), protecting us from the sun's harmful uva and UVB rays that can dramatically and prematurely age our skin.
The Neutrogena Rapid Tone Repair Dark Spot Corrector Face Serum will help you get younger-looking skin with less dark spots and a skin that looks radiant.


Wash skin with skin findings of low oil, or tallow. Antioxidants can also be used to protect the wrinkles and age spots. before selecting the acne cream, some people say that it is important to choose the benzyl-peroxide cream rich in glycolic acid.
Hyperpigmentation – What causes age spots and how can I reduce them?
Often called age spots, brown spots, or sun spots, hyperpigmentation can be a source of stress for many people who want to look their best. Hyperpigmentation is a common, usually harmless condition in which patches of skin become darker in colour than the normal surrounding skin. This darkening occurs when an excess of melanin, the brown pigment that produces normal skin colour, forms deposits in the skin. Hyperpigmentation can affect the skin colour of people of any race.
Dark spots are all too common. They can appear as a result of acne, sun damage, or a rash, which is also known as post-inflammatory hyperpigmentation. It isn't generally harmful and usually isn't a sign of a serious medical condition. In some cases, dark areas will fade on their own with good sun protection. In other cases, more aggressive treatment is needed. However, there's no guarantee that the dark spots will fade completely, even with treatment.
Saffron brightens your skin tone, reduces dark circles, pigmentation, repairs fine lines and age spots; antiseptic Indian Madder and Aloe Vera heals your skin and slows down the process of ageing; extracts of Vetiver and Lotus cool the skin while clearing your blemishes, and liquorice protects against all fungal and bacterial infections.
What are age spots and what causes them?
Busy working women who travel to countries with cold climates, work late nights and deprive themselves of sleep, and constantly smoke and drink alcohol stand to develop premature wrinkles and age spots more than those who have healthier lifestyle habits.
Activated Vitamin C tends to break up skin discolouration and dark spots, revealing a more even and uniform skin tone. White birch extract restores moisture and boosts collagen production.
The cream is a safe choice for all skin types and moisturizes very well your skin. It's able to brighten sun spots, age spots, dark spots and improves your skin tone.
What can I do to prevent age spots?
It helps in not just reducing but also prevents the appearance of age spots if it is used regularly. Coconut oil comes packed with various antioxidants which help in fighting against these age spots.
Prevent their formation from the inside so they don't show on the outside. Age spots are mostly caused by sun damage so using skin creams with sun protection can help.
What if I told you about the best hand lotion to prevent and lighten age spots does more than lighten your skin? Look for three things when seeking out safe, effective and de-ageing creams to use in the fight against age spots.
How can I remove or reduce existing age spots?
Argon gas delivers purple light therapy which relaxes the facial muscles and boosts lymph drainage, reduces inflammation, strengthens cell metabolism, increases blood circulation, heals skin scars, removes spots, and enhances skin nutrition.
Retin-A replenishes collagen and reduces wrinkles. To treat spots the use of hydroquinone is often suggested, but it can cause problems if used incorrectly. It can be used alone but is best combined with Retin-A, an alpha hydroxy to remove abnormal cells, a ph restorer and a sunblock.
The best age spot remover should leave your skin feeling smooth and looking young minus age spots. It should help reduce the appearance of age spots, if not eliminate them altogether.
Dermo-cosmetic Solutions for Age Spots
Peels for removing blackheads. Effective peels for removing blackheads include skin laboratory salicylic acid peel professional; skin obsession 40% glycolic acid for acne, scars, age spots, and lines; freeman cucumber facial peel-off mask; skin beauty solutions salicylic acid skin chemical peel; and Queen Helene peel off mask grape seed extract.


Dermatologists may prescribe stronger age spot creams which contain powerful chemicals. In our opinion, these prescription-based solutions often irritate and burn the skin, causing age spots to look worse.
Today we have other solutions to protect our skin, such as SPF creams. If you are looking to get rid of your freckles, dark spots, sun spots or age spots be sure to replace the protection with at least an SPF 30 sun cream or moisturizer.
Dermatological treatments for age spots
Laura taff is a Mom blogger and the e-commerce owner of Youthful Anew, where you can get the Paris-Beauty award-winning line of age spot treatments such as age spot serum and age spot removal cream.
Diagnosing age spots might include a visual inspection. Your doctor can usually diagnose age spots by looking at your skin. It's important to distinguish age spots from other skin disorders because the treatments differ and using the wrong procedure may delay other needed therapy. For those who wish to remove their age spots, they can resort to various natural treatments or skin bleaching creams.
Age Spots, Liver Spots, Lentigo and Sun Spots: All different names for the same thing
These flat tan, brown or black spots have been given many names including sun spots, lentigo and liver spots. Please note "liver spots" is a misnomer and they are not related to alcohol consumption or liver disease. They are also known by various other names, including lentigo senilis and lentigo solaris, sun spots, pigment spots, and liver spots, with the latter due to the now disproved belief that they were caused by liver problems.
Brown spots, known medically as solar lentigo (lentigines plural), are a common part of the ageing process of your skin. Many people call them "age spots" or "liver spots" but dermatologists prefer to call them "wisdom spots" because we collect more of them the older/wiser we get.
The Best Ways To Minimize Age Spots
Even if you've always been super vigilant about applying sunscreen and keeping your face out of the sun, age spots can, unfortunately, still occur. But luckily, there are ways to reduce their appearance, especially if you start treating them sooner rather than later.
Now imagine how much improvement your skin could show in just 4 short weeks to reduce age spots and minimize wrinkles if you start using a quality age spot cream product. It would feel pretty amazing!
Unfortunately, as with most things, age spots are best prevented in the first place by wearing a moisturizer with sunscreen. However, even if you already have some age spots you can help prevent further marks developing by ensuring that you always wear adequate sun protection and that you keep out of the sun as much as is possible.
Dark Spot Remover Cream
We mentioned before that to remove dark spots and uneven skin tone, it is very important that the cream you use has Vitamin C and the Anti-Aging Face Moisturizer by L'Oreal Paris Skin Care, Revitalift Triple Power Anti-Aging Moisturizer with Pro Retinol, Hyaluronic Acid & Vitamin C Cream has exactly that.


So, if you want to remove wrinkles, saggy skin, age spots and dark unbalanced skin complexion, then an effective organic face cream offers you the complete remedy, for a more even, youthful-looking complexion. The best age spot creams are correctors that actually work.
Exfoliate and Refining Face Mask
If you're still apprehensive, only use a thin layer of the face mask and leave it on for five minutes. If it does stain your face, simply use a sugar face scrub, and it will disappear completely, leaving you with a bright and exfoliated face.
Skincare concerns: blemishes, pores, oiliness. Formulation: mask. Highlighted ingredients:. – sulfur (10. 0%): works quickly to exfoliate dead surface skin cells, unclog pores, and help reduce the appearance of blemishes.
Banana can be used topically for skin of all types. Containing anti-ageing and antioxidant properties, a face mask will gently nourish, cleanse, exfoliate and moisturize ageing, acne-prone, dry, normal and combination skin.
Dark Spot SPF 30 Day Cream
The fading cream includes 2% hydroquinone so it brightens the dark spots of various causes. You need to give it time and follow the cream with a sunscreen every single day.
And lest you forget, the most important action you can take is to protect yourself from that big star in the sky that gave you the dark spots to start with: wear sunscreen every day, even in winter, with an SPF of at least 30.
Clinique is a good dark/ age spot correcting hand cream. The fast-absorbing hand cream offers up to eight hours of hydration and will still hydrate your hands through at least two hand washes.
Day Cream SPF 15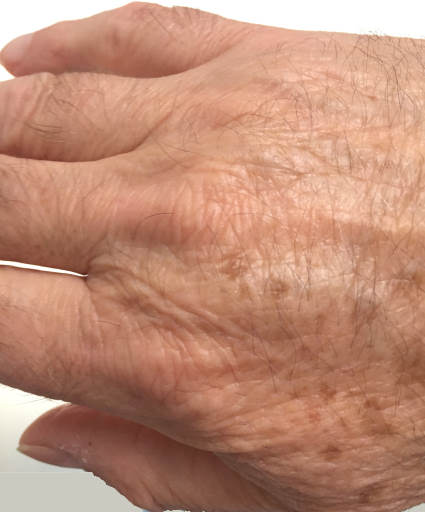 With a general whitening active formula and a high SPF, one nourishing, non-oily day cream works deeply to fade dark spots and prevents the excess production of melanin in your skin. Look for a moisturizer with SPF for your day-to-day use such as the Kiehl's Super Multi-corrective cream SPF 30. If you plan on being outdoors for extended periods of time, opt for a higher level of protection, like the broad spectrum SPF 50+ found in the Superfluid Daily UV Defense Sunscreen.
Skin savers at 40 might wish to look at the Avon range for their new ultimate Day Transformation Lift Cream with SPF of 15 Avon. A new ultimate day transformation lift cream which has all the great ingredients that will help fix the damage and improve the appearance of your skin.


Conclusion – Use the Best Cream for Age Spots
Do your research. Lastly, it is always good to look around skincare products first and at different sellers and see how their prices compare to others. Some offer packages or discounts for many reasons, another benefit that you will ultimately enjoy if you do some careful research before buying.
Dark spots result from sun exposure, age, and past acne blemishes. You can use the best cream for age spots to fade darker spots on your face and even out your complexion.
The result is the appearance of age spots, wrinkles and sagging skin. So based on this logic; many people look towards purchasing skincare products such as facelift creams or a facial mask, which have also collagen and elastin in them.